Here's my favourite annual list once again – my personal top ten movie scenes of the year. These are the moments within 2014 films that drew real reactions from me, mostly either of the teary-eyed or the "That was so sick!" nature. Even if they come from otherwise poor movies, I will still remember these cinematic moments, and if they come from otherwise good movies, well those movies just go up a level and look all the better for it.
Naturally, this is the most spoileriffic list of them all, so please proceed with caution.
.




-◊-◊

-◊-◊-




VR BEST OF 2014 DISCLAIMER




This list represents my opinion only. I am not asserting any kind of superiority or self-importance by presenting it as I have. My opinion is not fact. If you actually agree with me 100%, that's spooky. Respectful disagreement is most welcome.


-◊-◊-◊-◊-
.
10. The Final Blow – Godzilla
Jeez, I mean – just… Just LOOK at that shot. Badass doesn't even begin to describe the moment when Godzilla finally bests the "MUTO" menace in his 2014 return to the big screen. It almost makes up for all the flaws in the rest of the movie. Almost.
.
9. Flight through San Fransokyo – Big Hero 6
Big Hero 6 is a bit of a misleading title for a movie that is less about a superhero team and more about one teenage boy's recovery from the grief of loss. Through his relationship with Baymax, the nursing robot developed by his late older brother, Hiro Hamada learns to accept what life has thrown him and move on. After an up-and-down emotional rollercoaster, the moment Hiro finally starts to show real signs of recovery comes when taking a newly-modified Baymax for a test flight. Recognising the improvement, Baymax kicks things up a gear, performing acrobatic high speed maneuvers for the benefit of both Hiro and the audience. The ensuing visual splendour of the scene, complete with swelling music and clear plot significance, is something to behold.
.
8. Clipped – Maleficent
In what was honestly a rather middling movie, Angelina Jolie's performance in the titular role of Maleficent rather understandably shines above everything else. But it isn't just her sneering contempt that makes the performance so memorable – In the beginning of the film, when her 'origin story', for lack of a better term, plays out, there's a pivotal moment in the character's evolution that left me feeling rather ill. The second the former fairy queen Maleficent realises her wings have been stolen by someone she once trusted, all while she was drugged, she breaks down in wails and shocked, disbelieving sobs that are more than a little reminiscent of something else.
.
7. Koba plays dumb – Dawn of the Planet of the Apes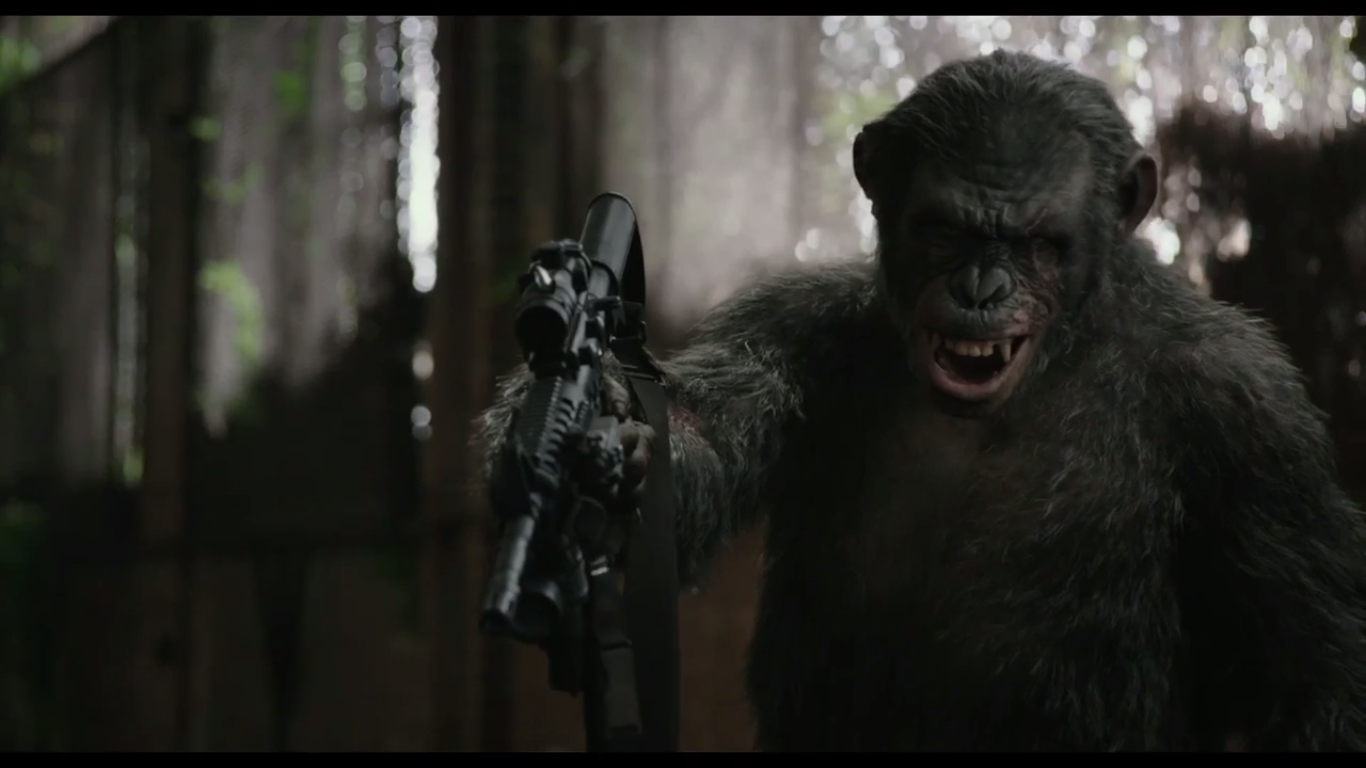 It's a testament to the power of this scene that it affected me during Dawn of the Planet of the Apes even though it had already appeared in the pre-release marketing for the film. When the devious, hate-filled ape Koba decides to take what he perceives to be a human problem into his own hands, his unfolding plan is chilling to watch. After fooling a pair of rather stupid guard henchmen by acting like a typical stupid ape, complete with glazed eyes, he obtains a gun, mercilessly executes the two, then uses the gun to mortally wound his ape leader Caesar just so he can start an all-out-war against the humans by blaming the kill on them. It's awfully reminiscent of real historical human events and it really made me feel cold watching it.
.
6. District 8 – The Hunger Games: Mockingjay Part One
Of all the scenes from the first half of the Mockingjay novel I read years ago, Katniss and her team's visit to the war-torn District 8 stood out in my mind as the one I most wanted to see on screen, not just because it's one of the only scenes with some real action in it, but also because it takes audiences to the front lines of the resistance and stays there just long enough for things to get uncomfortable. So it worked out really well for me that the visit is probably the best part of the whole movie adaptation, with some strong camera work, appropriately cool action beats and a very powerful sequence in the makeshift District 8 hospital that just NAILS the turning point in Katniss' war ambassador attitude. I welled up something savage.
. 
5. A Hero's Death – How to Train Your Dragon 2
From the end of the first How to Train Your Dragon, what with its permanently disabled protagonist and all, it should have been obvious to me that this was the kind of animated movie series that might have the balls to do a big name character death. When the second movie pulled the highly unusual, expensive move of visibly aging all its characters to match the film's improved level of detail across the board, I really should have seen a big story moment like that coming. But I didn't, and so when the big, no-nonsense, endearing village chief Stoick bit the dust in dramatic fashion, at the hands of the cute dragon everyone loves no less, I was shocked, and immediately impressed. There are so many admirable things about how the death is handled that I can't write about them all here, but suffice to say this may in fact be the "Mufasa moment" for a whole new generation of children, and I'm OK with that.
.
4. Car Chase – The Raid 2
Car chases in action movies are a dime a dozen, and though they definitely require a lot of effort to pull off, not all are created equal, and there are very few that manage to stand out as feeling fresh and original. So it's a bit of a surprise that The Raid 2, a film defined more by its high-contact martial arts sequences, manages to stage the best one I have seen in a long, long time. It starts close-quarters, grows quickly in scale and ends in morbid fashion, but the most impressive thing about it is how Gareth Evans shoots it. It is well worth looking up behind the scenes videos on how the hotshot young director made some of those unbelievable shots happen. There's going the extra mile for a certain type of shot, and then there's him.
.
3. "Oh." – John Wick
Oh man, I love this scene so much. I can recall no stretch of movie in 2014 where one word has more impact than in the brilliant introductory sequence for John Wick's primary antagonist Viggo Tarasov. After his spoilt, egotistical son kills the titular assassin's dog to set the events of the film in motion, Viggo is contacted by an associate while looking out at the city skyline in a thick jacket. He initially brushes off the news of his son's misdemeanor, until he finds out the identity of his son's victim. The immediate change in his countenance is both hilarious and extremely effective at building a believable in-universe mythos around John, without the need for a single contrived action scene. Mechanically it's actually not too dissimilar from the moment that kicked the first Taken movie into gear, come to think of it, and both moments involve phones.
.
2. The Ending – The LEGO Movie
I may or may not have shed a tiny, miniscule river of tears during the extended finale of The LEGO Movie, when a movie that had me laughing and just plain smiling like a wide-eyed child turned into an unexpectedly pointed reflection of my own personal failings. As the wonderful LEGO Universe of the film was revealed to be the work of one boy's imagination (or maybe not quite – the film doesn't make it 100% clear), I saw myself in Will Ferrell's human representation of the villainous Lord Business. I adored my LEGO as a child, and in another world, I may very well have ended up like Ferrell's super-strict dad, insisting that every piece of what is essentially a toy (a fact humorously lampshaded by Ferrell in the movie) stay in its exact right place. The sudden human relationship dynamic that had been running through the entire movie without my knowledge hit me hard. The feels!
.
1. Pentagon Break – X-Men: Days of Future Past
It's funny, it looks and sounds amazing, it elevates a throwaway supporting character role to ensemble dark horse status, and it's my favourite movie scene of the year – the moment when Quicksilver straps on his goggles and headphones inside a room in the Pentagon and wreaks havoc on everything around him, expertly manipulating a standoff that saves a handful of lives while looking really, really cool. Set to the impeccably chosen soundtrack of Jim Croce's slow jam "Time in a Bottle", every moment of the scene is overflowing with buckets of personality, and it stands out all the more from its highly populated DOFP surroundings for its flash-in-the-pan nature. Perfect.
.
.


-◊-◊-◊-◊-
Honorable Mentions


.



—The Opening – Cold Eyes
This one is only in the HM section because it technically doesn't come from a 2014 film (Cold Eyes is a 2013 Korean movie I saw at a festival in Sydney this year and reviewed on this site, and it is extremely difficult to track down by legal means). But it is just so well paced, shot and played out that I feel it needs to be on this page.
—Baseball Bat Man/Hammer Girl Montage – The Raid 2
See my top characters list. A very cool set of larger-than-life action sequences stitched together.
—Dinobots – Transformers: Age of Extinction
Yes, they come into the movie way too late, and yes, they lack any sort of personality beyond their ability to destroy things really, really well, but the summoning and subsequent rampaging of the Dinobots at the end of Transformers: Age of Extinction is still hella fun to watch.
—Come and Get Your Love – Guardians of the Galaxy
After a very weird opening scene with a tone that doesn't quite fit the movie, the opening title sequence of Guardians of the Galaxy does a fantastic job of setting the stage for an offbeat adventure with a dancing, lip-syncing performance of Redbone's Come and Get Your Love by shooting star Chris Pratt.
—Perspective – Gone Girl
I doubt I really need to say much about this scene, because it speaks for itself. Around the middle of the movie, assuming you haven't read the book of course, everything you thought you knew about the set-up of Gone Girl crumbles away to reveal something else entirely. It absolutely floored me.