So I recently beat the final boss of Octopath Traveller, pretty much bang-on two months after launch and with a 90 hour save file to show for it. The game's alright, I guess.
Lukewarm jokes aside, my deep appreciation for this itch-scratching JRPG gem lies mainly with the things for which it has been widely praised – Its astonishingly unique visuals, its wonderfully dynamic soundtrack, its deeply strategic combat. If people at large seem to have a bone to pick with Octopath, that bone is firmly lodged in the story department.
The game's atypical approach to story structure – eight individual stories that stay separated from the wider party narrative outside of a handful of short optional skits – may irritate those who weren't prepared to find such an approach in an RPG that appears so traditional at first glance. But as someone who has played a hell of a lot of JRPGs, I for one welcome the refreshing ability to tell some of the most focused, character-driven tales you can find in any title of Octopath's ilk. Bound by a less plentiful budget than is usually afforded to more known Square Enix RPGs, the game's writers had to employ a simple combination of rudimentary animations, on-point musical cues and tactfully distributed voice acting to sell eight different four-chapter stories despite repeating a very similar contracted three-act structure 32 times.
Sometimes this works better than others, and though factors like the order in which you see them (the game is very open) and your own personal tastes and background will determine which of Octopath's story chapters stand out most for you, these are the eight that I enjoyed the most. Spoilers obviously abound, so read on only if you've finished the game or don't plan on playing it any further / at all.
.




8. Cyrus Chapter 2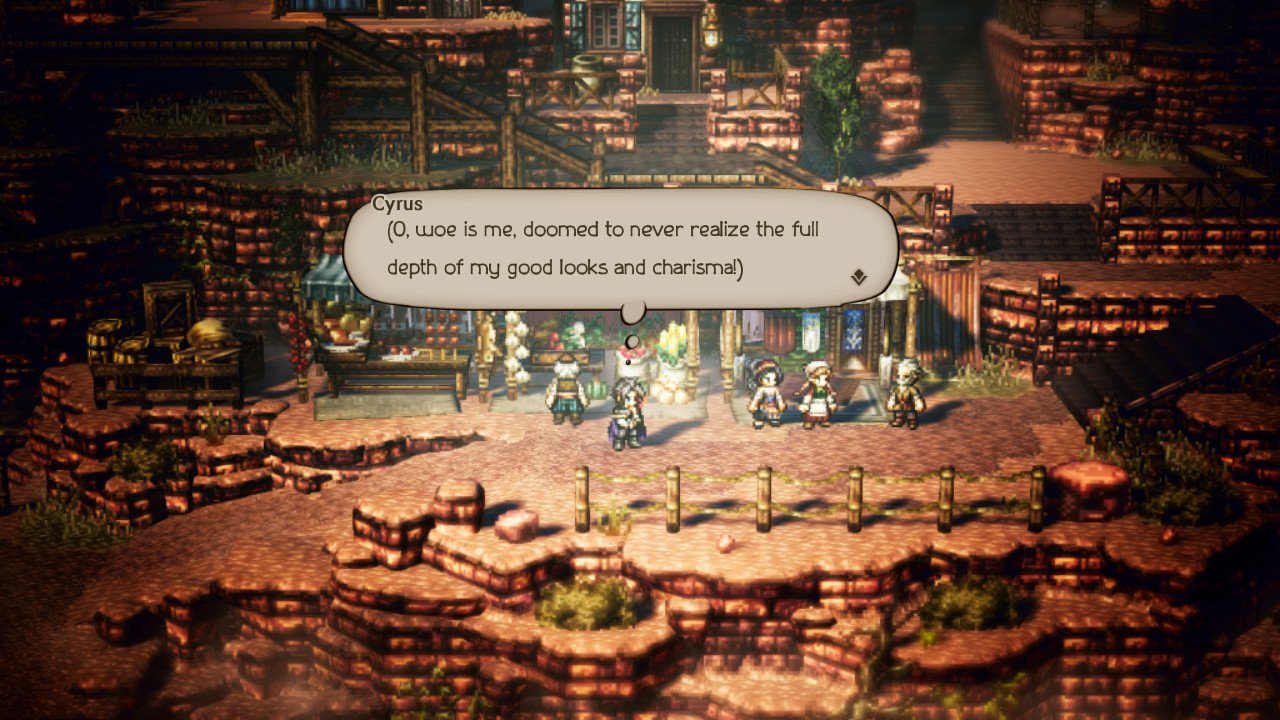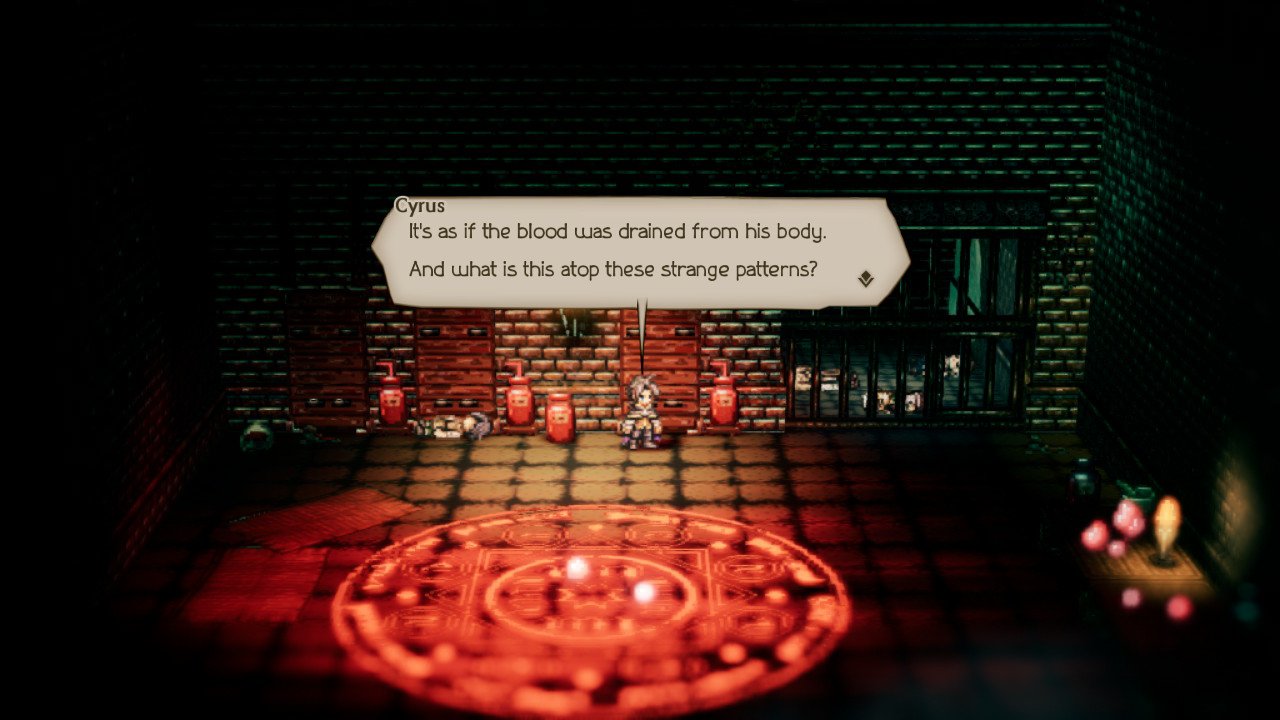 Ah, Cyrus. As one of the later characters I met on my journey, I initially found his idealistic head-in-the-clouds indifference to the feelings of those around him to be a grating character trait, but by the time his introductory chapter is over that same trait has been turned into a joke at his expense and he is suddenly an endearing, not to mention mechanically essential, part of the octo-squad. His second chapter beats his first one onto this list, however, thanks to the way it uses this endearment to maximise the impact of a shockingly macabre turn. In the mining town of Quarrycrest, you get to see the full range of Cyrus' strictly-academia reactions to everything from light jabs at his obliviousness to demonic blood rituals. If you haven't done any third chapters by the time you see this one, the ghastly introduction of supernatural body horror into the world's lore makes for some decently-paced foreshadowing.
.




7. Tressa Chapter 2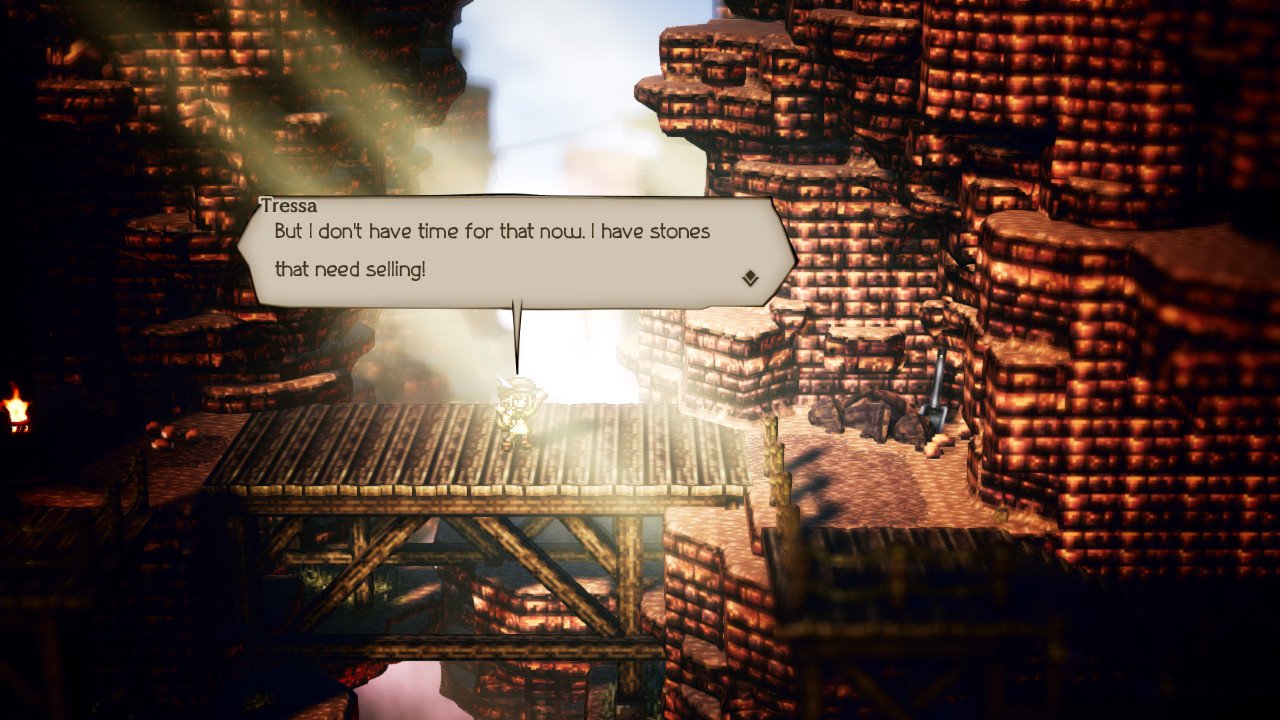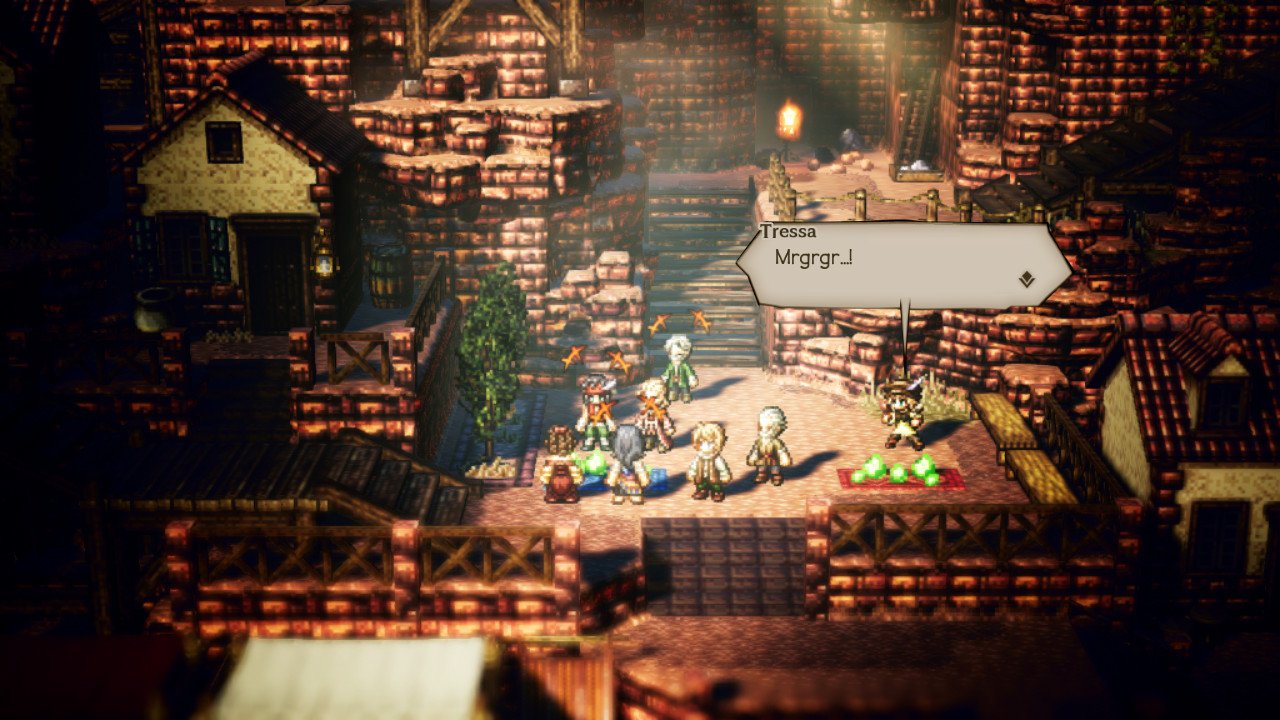 The other major chapter taking place in Quarrycrest takes on a rather different tone. It sees the wholesome, naive aspiring merchant Tressa attempt to make her fortune by selling shiny gems in a town ultimately under the control of a despot of sorts who believes that very fortune belongs to him by right. It builds to the confrontation with said megalomaniac by first introducing one of Octopath's best supporting characters, Ali. A cocky young merchant with an existing bag of tricks and sales techniques, Ali serves initially as a cheeky antagonist and eventually as an ally against the larger evil at hand, in both cases encouraging tremendous growth from Tressa. Though more of his character is developed in later chapters, in Quarrycrest his relentless-yet-principled attitude to the art of selling solidifies him as an indispensable addition to the game's considerable secondary cast.