One of the symptoms of the churning waters of 2016 in K-Pop was the comparative evaporation of full album releases from big players in the industry. Whereas every previous year I've done this countdown has brought a reliable salvo of well-polished, high-variety SM releases – usually led by f(x) – and a breakout LP or two with strong devotion to a decidedly non-Korean concept – think IU's Modern Times or Wonder Girls' REBOOT – 2016 had neither. If your first thought is that this might translate to a bloodbath of competitive mini-albums, you'd be right, as hedging bets seemed to be the name of the game for the big Korean entertainment companies this year. Luckily there were still some real gems spread throughout the year for fans of longer form K-Pop, and you can find my favourites below.
For the purposes of this list a mini-album is a release between four and seven tracks long, while a full album holds eight or more.
.




-◊-◊

-◊-◊-




VR BEST OF 2016 DISCLAIMER




This list represents my opinion only. I am not asserting any kind of superiority or self-importance by presenting it as I have. My opinion is not fact. Music is a very personal thing and if you actually agree with me 100%, that's strange. Fun, but strange. Respectful disagreement is very welcome.


-◊-◊-◊-◊-
.
– – – – – – – –
MINI ALBUMS
– – – – – – – –
5. The Velvet – Red Velvet

I'm just such a sucker for clearly defined concepts when it comes to albums of any kind, so Red Velvet's The Velvet was always going to have a bit of a leg-up in a crowded year for quality K-Pop minis. As a follow-up to last year's energetic, off-kilter The Red, the idea behind The Velvet is to show off the softer, more conventional side to the quintet that is in theory build into the group's very identity. And for the most part, it pulls the idea off, with only the robotic rhythm of Cool Hot Sweet Love there to indicate that this is even the same people who did The Red. While some may find the lower tempo and less experimental flavour a bit boring, if the 90s warble of lead track One of These Nights is any indication of the kind of song we'll get in the future from this half of the Red Velvet discography, I'm in. And that's before I mention Rose Scent Breeze, the most glorious instance of cheesy, karaoke-friendly ballad goodness I've heard in a long time. I have screamed out the chorus of this song on late drives home more times than I care to admit.
.
4. Memory – MAMAMOO

They can't stay off this list and for good reason. In late 2016 the power quartet with the show-stopping vocals only strengthened their reputation with Memory, the eponymous lead track of which is a superb lounge jam that kicks things off with effortless style. Hip-hop infused B-side Moderato brings the croaky-voiced Hash Swan in as a surprisingly effective foil to all the crooning, while the guitar-and-trumpet-driven closer I Love Too is an up-tempo ballad that mirrors the opening nicely. It certainly doesn't hurt that the EP includes touristy single New York and chorus of the year contender Decalcomanie, but what really seals the deal for the MAMAMOO fan is the double offering of Angel and Dab Dab, the former a snarey pairing of major vocalists Solar and Wheein and the latter the kind of frivolous hip hop pairing of Hwasa and Moonbyul that has been brewing since the group's debut.

.
3. Page Two – Twice

If there's one pattern in my tastes that has yet to be broken over five years of K-Pop listening, it's that without fail when a group releases two mini-albums in one year, I always seem to prefer the one with the lead single I like least. It happened again with Red Velvet this year, and it definitely happened with Twice. While I didn't quite enjoy Cheer Up as much as latter-year release TT, its accompanying mini is fantastic. Stadium-chant closer Headphones has already become popular enough to rival Twice's MV tracks among the group's fans, but the remainder of Page Two's tracklist is filled with sport-themed highlights like the catchy countdown chorus of Touchdown, the marching band backing of Woohoo and the clockwork cadence of Tuk Tok. The mini is one of the more conceptually united in the JYP stable, but it's also just a lot of breezy fun.

.
2. EXIT:E – Winner

A moment of silence for the talented Taehyun, easily the most prominent player on Winner's spectacular early 2016 mini album and unfortunately now an ex-member of the group. His contemplative, crackly-keyboard-driven solo I'm Young is a well-produced soulful trip, especially when heard through decent headphones, and it leads into one of my favourite B-Sides of the year, the acoustic Taehyun-Mino duet Pricked. These two songs hold up the album, but that isn't to say the rest of it isn't worth writing home about. Single Baby Baby is a great opening tone-setter, the cymbal-crutch percussion of Sentimental helps it stand out from similar songs of its kind, and Immature provides the requisite loud song to balance everything up. Load this bad boy up if you enjoy slower male group fare but can't quite get into the standard Korean ballad style.

.
1. Why – Taeyeon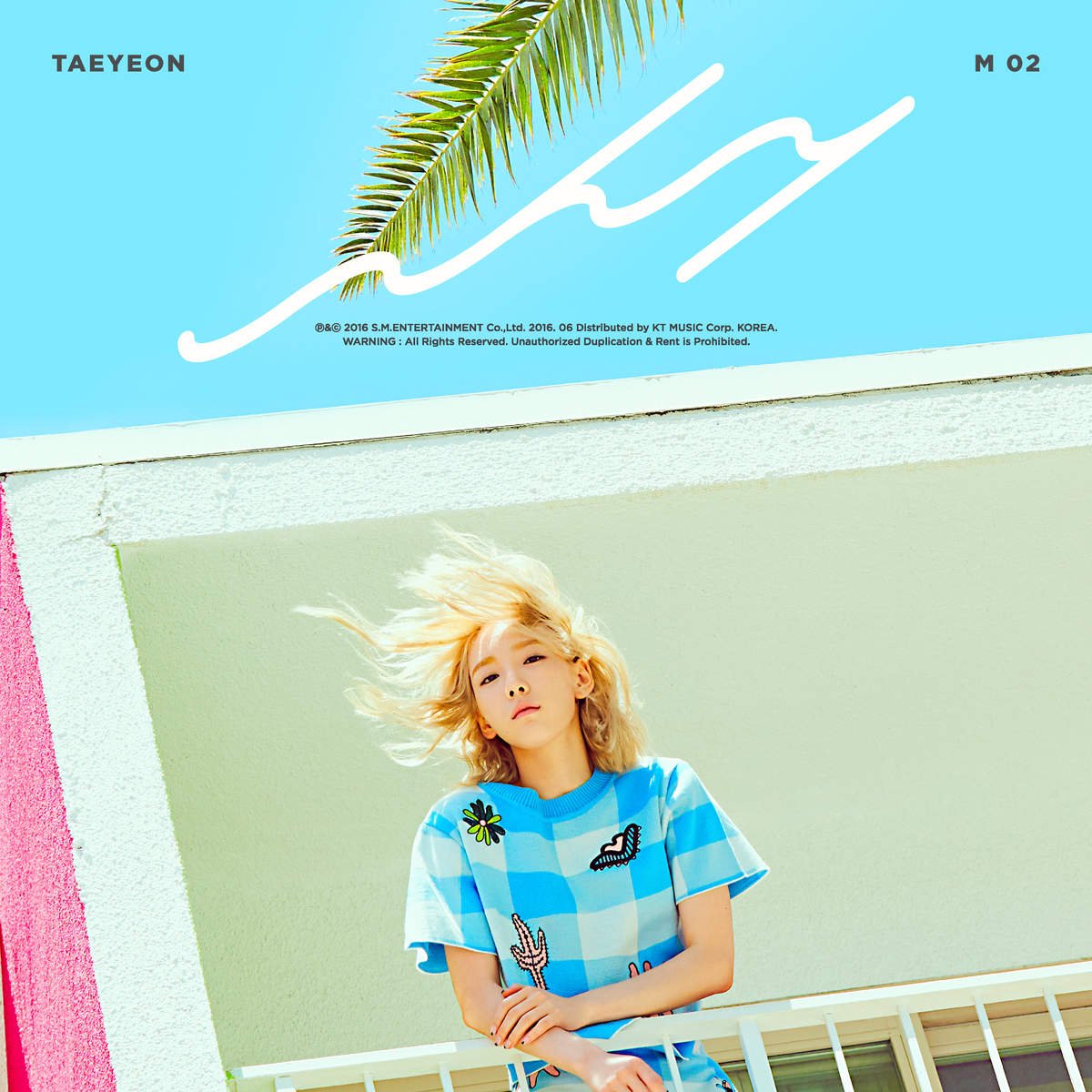 Even before she dropped evocative acoustic-only throwback 11:11, SM soloist Taeyeon was already having a hell of a year, helping launch the year-long SM Station project with typically effortless mid-tempo ballad Rain, then following up with this superbly balanced mini-album that itself produced two popular singles. Why and Starlight are those singles and they work well as an opening pair, with the former's vocal exclamations and high-pitched backing tones giving way to the latter's wind-down appeal. From there the album is actually surprisingly upbeat, from the bouncy electro verses of Fashion to the sticky piano-staircase loop of Hands on Me to the half-vaudeville Up & Down (where fellow SNSD member Hyoyeon cameos with mixed results) to the confident, pulsing beat of Good Thing. The backing tracks don't quieten down again until the very end of the album, when the more understated Night rounds off an album worthy of standing alongside anything Taeyeon has done across all her various groups and collaborations.
.


-◊-◊-◊-◊-
Honorable Mentions


.
—Spring – Akdong Musician
This one was particularly hard to keep off the main list. Akmu have a track record as clean as a whistle when it comes to delivering quality releases of all shapes and sizes, which continues with Spring. The album's structure as a whole mirrors the dual appeal of its two excellent singles Re-Bye and How People Move, alternating smooth acoustic harmonies with quirkier Akmu specials – the highlight of which is probably the fast-talking Green Window.
—Musik – Kisum
A largely self-penned exercise in infectiously laid-back hip-hop, Kisum's second mini is a near-perfect Sunday afternoon listen that only raises her standing in the rapidly-expanding K-Pop subgenre. Uncanny Shoji Meguro lounge stylings on 2 Beer and soft electronic distortion on Cover Up provide the laconic highlights, but even the livelier songs carry the same carefree spirit.
–Act 7 – 4Minute
What turned out to be the final mini album from 4Minute was not only released very early in the year, it's also alphabetically prominent, meaning it would come on automatically in my car very often throughout the year and I got to hear it an awful lot as a result. So I can rather confidently say its worth your time if you've enjoyed the group's past stuff.
.
– – – – – – – –
FULL ALBUMS
– – – – – – – –
.
5. Noir – B.A.P

Words cannot adequately describe how good it is to hear a full-length B.A.P album with a coherent concept and consistent quality all the way through, even if it comes well after the endlessly unlucky group's popularity peak. While the once-prolific six-piece did release a full album a few years ago that packed some good songs, it came right around the time of their now-infamous label dramas and it showed in the messy production. By contrast, Noir leans hard from the start on a new, darker variant of B.A.P's trademark grit, and while it does take detours through some lighter high-energy material (Skydive, Chiquita), it returns constantly to heavy piano, deep echoing percussion and low-key guitar. It even gives the multi-talented JongUp a worthy solo, and *gasp* there's an actual honest-to-goodness Bang & Zelo rap duet on there in the form of Confession. Welcome back, boys.

.
4. Melting – MAMAMOO

Coming in for a casual second mention on this page, MAMAMOO's first full-length album dropped in February 2016 and while not quite as tight as their later mini, it's still bound to resonate with fans of the group's truly next-level vocal talent. Friday Night, which borrows the affective voice of Jungiggo, is a bouncy streetlight tune with lovely harmonies and Cat Fight lays on the retro ham for a Tom & Jerry-inspired sound where Moonbyul's rap fits a little easier than normally, but as the album's title might suggest, Melting's big highlights are the slow songs. The thick R&B flavour of pre-release single I Miss You is complemented by an unexpectedly nostalgic trip in the form of My Hometown, an emotional closer in Just, and first-drop tone setter Words Don't Come Easy. Melting was the sign of quite a year to come for MAMAMOO and it is certainly worth your attention.

.
3. Seoulite – Lee Hi

A modern rarity in its status as an immediately fulfilled YG promise, Lee Hi's long-awaited sophomore album came out in two halves (much like her first, actually) more-or-less on schedule, probably due to her decision to ally with producer Tablo's YG underground-flavoured sub-label, HIGHGRND. Its sonic content reflects the production shift as well, as roughly a third of the album has a definitive hip-hop sound and even a few of her more typical belters feature YG rappers in some capacity. They are fun diversions from the standard Lee Hi sound that make her feel more a part of the wider YG stable than ever before, but it is that very sound that continues to provide the best music. Blues, Breathe, Passing By and the positively Epik High-sounding Up All Night have you covered in that department.

.
2. Red Planet – Bolbbalgan4

Practically sight-unseen in the main western spheres of K-Pop appreciation, Bolbbalgan4 (also known as "BolBBalgan Sachungi", "Blushing Youth", or the super-awkward direct translation "Bolbbalgan Puberty") is a duo I discovered while I was in Korea back in October and noticed a song of theirs, Galaxy, getting a fair amount of cafe play. Turned out it was the lead single from Red Planet, a sensational album registering as barely a blip on this side of the world. Though instrumentalist-slash-occasional rapper Woo Jiyoon appears on all the group's marketing, Bolbbalgan4 is driven by the unique voice of Ahn Jiyoung, whose super-airy tones dominate all of Red Planet. Largely a mid-tempo piano/guitar album that thoroughly commits to the acoustic concept, poppier tunes like Chocolate and Fight Day mix things up while Ring carries in a bit of jazz and closer When I Fall in Love generates a bigger, noisier chorus to cap things off.

.
1. Wings – BTS

Wings truly is a treat for K-Pop geeks. A Korean album that doesn't just automatically begin with the lead single is usually a good sign, but BTS and their production crew take the idea of deliberate structuring much further than that on their second full-lengther, taking a comprehensive detour into seven solo songs – one for each member – following the effective hype-builder Boy Meets Evil and experimental title track Blood Sweat & Tears. Some of the album's strongest moments come from this section, such as the multi-talented Jungkook's weightless delivery on Begin, Rap Monster's low-key Reflection, and the unique, restless backing tracks driving both J-Hope's Mama and Jimin's Lie. The album's second half is no slouch either, delivering vintage Bangtan goodness – and how – with BTS Cypher 4, throwing in a bit of chopped country sampling on Am I Wrong (why not?) and bringing a potential crowd-chanting concert favourite in the guise of Two! Three! As a package, Wings represents a strong offering in more ways than one and it marks a significant step forward for BTS.
.


-◊-◊-◊-◊-
Honorable Mentions


.
—Welcome Back – iKON
Yes, yes, it was technically released in 2015, but on the 24th of December, nearly a full week after I had finished writing last year's album list, so I call shenanigans and say it's eligible for this year. Unfortunately, the second half of this staggered-release debut effort is much weaker than the first, so alas, I can't put it into the main top five. Yet Welcome Back still packs some real bangers – mostly from that first half – and is well worth checking out. Rhythm Ta, Anthem and Apology lead the charge in this department.
–MADE – Bigbang
It finally came out as a full album at the very end of 2016, but because we've known eight of the songs on it for the better part of a year, the only real intrigue in this release comes from the track ordering, which unfortunately is rather lazy. But the three new songs are rock-solid and so are most of the other songs from last year, so that still adds up to a decent album, I think?