Yes, this is where I'm putting that extra point from the shortened consoles list.
2019 was in my estimation the craziest year for quality K-Pop mini albums I've yet experienced. For a significant chunk of this year I toyed with the idea of outright replacing this list with a top ten purely devoted to the EP format. With the extra point and more honorable mentions I've pretty much ended up with one anyway, which is great because thanks to an expanded K-Pop recommendation circle I did uncover a good amount of worthwhile full albums in the end as well. I may have bent some rules, but I'm really happy with the list this year. Happy listening!
1-3 tracks = N/A
4-7 tracks = mini album
8+ tracks = full album
.
-◊-◊-◊-◊-
VR BEST OF 2019 DISCLAIMER
This list represents my opinion only. I am not asserting any kind of superiority or self-importance by presenting it as I have. My opinion is not fact. To agree with me 100% is rarer than an EA game without microtransactions. Respectful disagreement is most welcome.
-◊-◊-◊-◊-
.
.
–
–

–

–

–

–

–

–


MINI ALBUMS


–

–

–

–

–

–

–

–
.
6. Kill This Love – Blackpink
Yes indeed, once in a while a YG girl group actually releases enough songs at the same time to count as an album! In Blackpink's case, the loooooong time between drinks just about paid off in 2019, because Kill This Love brings three A-game B-sides and a pretty decent remix to slot in under the bombastic title track and create a winning EP. First-change rumbler Don't Know What To Do leverages the drop-happy stylings that have helped slide Blackpink out from under 2NE1's shadow, while Hope Not finally brings back the all-too-brief magic from the group's debut year acoustic B-side Stay. The sealer is the middle track, however: Kick It is a low-key better song than the actual lead single, Kill This Love, which is no dud itself. Uniting big drop with strumming flourish, it rocks.
.
5. No.1 – CLC
Fending off strong showings from countless competitors in their corner of the market, CLC's No.1 ultimately finishes 2019 as my favourite girl group mini album of the year. Though other EPs brought higher highs, there are no lows on this well-executed serving of toe-tappers. Aside from providing some nifty wordplay alongside the album's title, No works great when demoted from lead single to enigmatic curtain-raiser for the steady 80's beat of Show. Then Breakdown rolls in with its distant twisting refrain and exasperated tone, followed by the showpiece thunder of Like It and sweetened-EDM closer I Need U. Good stuff all around.
.
4. Map of the Soul: Persona – BTS
The first BTS mini I've liked enough to make this list, Persona does more than invoke the name of one of my favourite videogame series – It delivers sticky contemplative jams backed by some shredding, heavy beats. The most reliable source of great opening tracks in K-Pop sets a new bar with RM's eponymous monologue, and Home falls right into that V and Jimin wheelhouse with fantastic results, but it's the final two tracks that best exemplify BTS' modern strengths. Using only the most relevant personnel for the track, the silky pleading of Jamais Vu soars, before the pace and energy go all the way back up for a full-group finale that builds to an aggressive final-chorus crescendo just ready-made for live performances.
.
3. Yaho – N.Flying
Talking and writing about K-Pop tends to involve throwing around the term "infectious energy" a whole bunch. But after years of doing their thing away from K-Pop's harshest spotlights, actual instrument-playing boy band N.Flying basically codifies the phrase with the bubbly Yaho. The guitar licks holding up the EP aren't going to win any awards for novelty or originality, but everything comes together around them so well that it doesn't matter. Just about every B-side is somehow capable of keeping up with the irrepressible Good Bam, effectively giving that gem a tail that keeps wagging for 15 minutes. The sprightly Autumn Dream is first up, and the fact that it's the closest thing to a ballad Yaho has to offer says all you need to know about the album. Pardon? hits next, with its peeling layers and rapid syllables, and it is off to the races with N Flying from that point on. 4242 brings the brass out to play in a big way before Sunset uses Timberlake-esque rollicking falsetto to usher in a booming chorus and before you know it, you're hitting the Repeat All button.
.
2. Love Poem – IU
She's back and doing what she does better than just about any other K-Pop soloist: Putting out cracking albums that stick to a concept while keeping the variety rolling. Love Poem makes its promoted single the midpoint and puts the title track at the end, because IU hasn't really cared about industry trends for a long time. Luckily for fans, she does care about using the structure of a mini album to take listeners on a journey; In this case, the showpiece post-production of previous efforts is replaced with an austere (for IU) focus on basic accompaniment and some really good slow jams. The Visitor's forlorn lounge tone could fit onto the singer's Chaplin-inspired Modern Times LP (One of my favourite K-Pop albums ever, incidentally), and it's just one example of IU's uncanny ability to embody the spice of life under 90 BPM. From the unexpected folksy pirate breakdown right in the middle of epic ballad Above the Time to the rare IU vocal acrobatics on Lullaby to the cavernous Adele piano chords and eventual choir echo of the final track, Love Poem may be an album with a careful pace, but laid-back it ain't.
.
1. Sleepless in _____ – Epik High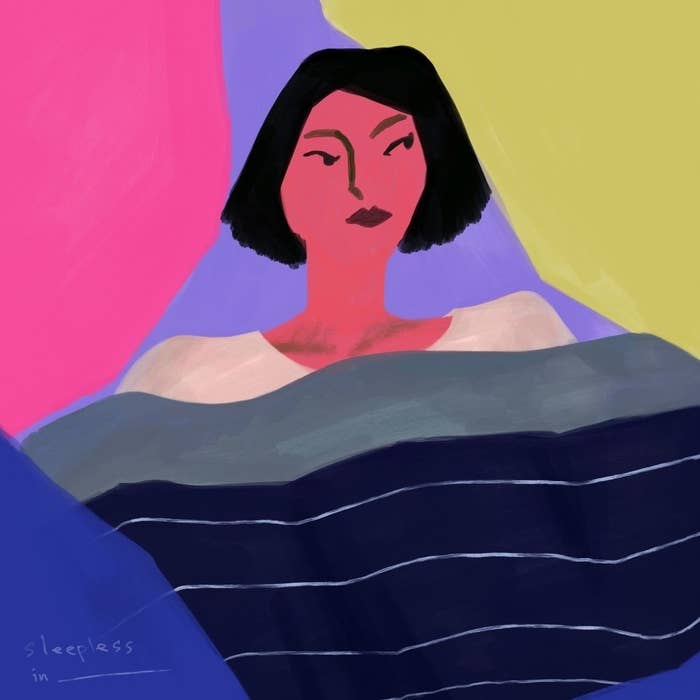 2019 was a banner year for Tablo and his group Epik High. Their first full, active year outside a major K-Pop label in almost a decade turned out just fine. Alongside a proper worldwide tour that actually included some Australian dates (There's a show I regret missing more and more each day), he started the chilled-out, consistently enjoyable Tablo Podcast for his most rambling, relatable thoughts and won over plenty of new fans. But among all that, he also helped put out the year's best K-Pop EP. That confident cry during opener In Seoul that Epik High is "back at the Map the Soul level" is no exaggeration. That famous Tablo/Mithra Jin cadence continues to fit the grooves inside Tukutz's smoothly unfolding backing tracks like the songs are made of Lego blocks. Deeply introspective, depressing Lego blocks. Sleepless in _____ throws forward a decent sprinkling of layered, brutally honest English lyrics that remain tragically relevant to the lone human experience in modern times, but every song is so well-produced that the album is still somehow a pleasant audio experience. It is this crucial combination that proves the veteran three-piece was never past its peak at all – They just needed to do things on their own terms.
.
-◊-◊-◊-◊-
Honorable Mentions


.
—WANT – Taemin
This is how good a year it was for K-Pop EPs. Taemin's incredible sophomore solo effort leads my 2019 honorable mentions with a powerful set of industrial beats that aren't afraid to be catchy, setting it apart from his debut work. Shadow in particular keeps up the weird tradition of banging SM tracks with that name by getting all symphonic and rousing, but Never Forever is also worth noting as a Darren Hayes-evoking sucker punch.
—Fancy You – Twice
Another absolute ride of a mini album, Fancy's accompanying B-sides deliver boatloads of fun support. Stuck in My Head lives up to its name, Girls Like Us evokes Twice's former seniors the Wonder Girls, and Strawberry builds a delicious high-register head-bopper from clean, minimalist parts.
—Show Me – Momoland
Momoland has somehow already reached five mini albums, but they aren't exactly phoning it in these days. Falling U decorates a relaxing tune with delightfully soft guitar strums and Holiday is one of the best saccharine shots from a K-Pop girl group all year, but the surprise weapon here is that closing instrumental version of MV track I'm So Hot. It's just a good electroswing jam all by itself.
—XIX – 1THE9
When Crush himself decides to produce your album, you know you have an unfair leg-up on your competition. Not only did televised competition survivors 1THE9 land that dream partnership, but the man also lends his famously smooth vocals to the opening track of XIX. Domino is a hurricane first song and the quality does not let up from there, peaking again with the shockingly tasty industrial grind of Right Now Right Here.
—I Made – (G)I-DLE
Continuing the artwork and naming motif from last year's I Am, (G)I-DLE's follow-up is a more laid-back affair. While there are some fun tunes, the minimalist harmonic ballad Put It Straight outshines everything else on there. It's probably my favourite song the group has yet produced.
.
–
–

–

–

–

–

–

–


FULL ALBUMS


–

–

–

–

–

–

–

–

.
5. Obsession – EXO
Making the list with a late-year addition yet again, Obsession is ultimately a different prospect from last year's Love Shot. This is a much tighter affair in terms of length, and some DNA from EXO's junior labelmates NCT bleeds into the production, particularly across the shout-on-beat Jekyll. There's also more than a little bit of SHINee in the verses and pre-chorus of Non Stop. But EXO has shown plenty of times that they can get down with different song types using a sound all their own, and while lead MV track Obsession is a superb example of this – at times calling back to the calm-before-the-storm days of Overdose – the likes of Trouble and Ya Ya Ya are reminders of what these boys can extract from an irregular beat. There are two definitive standouts for the all-time EXO catalogue, however: Groove goes as smooth as you'd hope, heavy on the Baekhyun for maximum effect and packing a wicked flute salvo; while Butterfly Effect closes out proceedings with a downright sensual ooh-whoah backing track showing real purpose. Speaking of…
.
4. Purpose – Taeyeon
Surprising no-one, Taeyeon's second full album turned out to be really good. Coming in at a neat ten tracks long, Purpose trims back the excited indulgence of the Korean superstar's first LP and turns down the pace to allow her voice to dominate more of the production. As Taeyeon fans know well, that's no downside. Launching with one hell of a tone setter in the piano-backed Here I Am, the album uses minimalist mid-tempo pop tunes and the sultry LOL to build up to midpoint crescendo Better Babe – where Taeyeon positively unleashes on the mic – before calming down again for a much quieter, more contemplative second half filled with hypnotic backing tracks and even more hypnotic vocals. Gravity closes the album in fine style with a golden melodic response hook, sealing Purpose as easily one of the soloist's smoothest pieces to date.
.
3. All to Action – Ateez
Surprising a whole lot of people, Ateez's first full album turned out to be a ride well worth taking. Closing off the group's "Treasure" conceptual saga, the album opens and closes with swelling instrumental pieces worthy of a grand cinematic fantasy tale – which hardly come out of nowhere, it must be said, as Ateez's music videos often try to emulate such a tone. Then the aforementioned Wonderland blows by and suddenly we're hit with the soaring EDM chorus of Dazzling Light, followed shortly by the huge semi-falsetto chorus of fake ballad Mist. I suppose the bassy flittering flow of Precious (Overture) is meant to serve as a break at 90 seconds long, but it doesn't leave much time to take a breath before the album hits the ground running with song after song of catchy electronica. The boys don't properly slow down until the final track. But my favourite moment of the whole ordeal has to be Min-gi vehicle Thank U, which just packs in everything I love about this emergent power group.
.
2. She's Fine- Heize
Always a likely candidate to drop a sizzling full-lengther, R&B powerhouse Heize lives up to her potential on her first attempt. She's Fine hits that sweet spot between accessibility and depth from the very first track. The subtle vocaloid echoes behind the insistent refrain of "She's Fine, She's Fine" on Her Fine Weather enrich the track but also reveal that something is off, instantly confirming the album's thematic exploration of inner struggles beneath societal appearances. From there Heize croons alone and with male featuring artists, with and without a beat, exploring her impressive vocal range while enjoying the space afforded by a full tracklist to throw in a rap stanza or two in the style of her early career. Dispatch and Doobling provide the catchiest choruses, but every track has a pinch of spice to help it stand above the flowing thematic stream tying everything together. Nowhere is that spice more flavoursome than when the always-incredible Jooyoung shows up to lend his satin style to a Sting-esque guitar line on Tree Only Look at You, but this is still an album best experienced in one continuous piece.
.
1. Far From the Madding City – Oohyo
The poppiest effort from the so-called "K-indie" sphere that I've heard for quite some time, Oohyo's pared-back synth wash Far From the Madding City alternates English and Korean lyrics with a nonchalant near-even split that gives people like me the ability to play it in the background of social gatherings stealthily. This is a big win. Thank you Oohyo. But the album is also just really good, oftentimes shaking out like the more relaxed half of a Danganronpa or Va-11 Hall-A soundtrack set to words. From the opening ping pong beat of Naive through the hopeful/forlorn push and pull lyrics of Tennis, Pizza, Brave and A Good Day, echoey deliberate notes fill your speakers or headphones on a bed of distraction-free refined synth. Swimming brings in a delicious Offonoff flavour, Sad Lounge almost elevates itself above the interlude role with a Latin twist in its tail, and Ramen serves up a two-stage journey from piano and reverb to an almost jaunty slap guitar. You'll know whether this album is your kind of thing after a minute of listening to any of its songs, but if you latch onto her style, Oohyo has a real treat for you.
.
-◊-◊-◊-◊-
Honorable Mentions


.
—Re_Vive – Brown Eyed Girls
Quite a few of 2019's K-Pop full albums seemed to skew towards the chill side of the energy spectrum, and B.E.G's contemplative, ballad remake-only return after a very different, downright psychedelic 2015 effort exemplified that trend better than most. But of course, these four K-Pop legends can belt a melody, so if you're in the right mood Re_Vive really delivers the goods.
—Time_Slip – Super Junior
Super Junior refuses to go away, and now that they're at last back to the full lineup from my early K-Pop days, it turns out they've still got a decent album in them. Stadium opener The Crown is enough to stir any fan of the group's early stuff, as is the excellent Stay With Me, but the old penchant for a silly sonic experiment or two is still alive on the likes of I Think I, Game and Skydive. Show is pure old-school feel-good K-Pop to close out the album, and one of the guys with a writing credit on No Drama is a friend of mine! Surreal, I tell you.
—ReVe Festival Finale – Red Velvet
Makes it at the eleventh hour thanks to the combined December re-release of the group's two 2019 mini albums. Neither is their best work individually, but combined there's just enough quality to make for a messily-constructed RV odyssey – especially with extra songs In & Out and LA Rouge added.