At this time of year, as people look back on the 12 months that were and attempt to make sense of them, it's not uncommon to hear phrases like "It was a year of two halves". Well, this is a list of two halves. Or it would be if you could divide five in half cleanly. You know what I mean.
By the standards I use to make this short list every year (quality of exclusive gaming releases, features and/or general usability improvements), two major gaming consoles had a pretty dour 2017, two had an absolutely incredible 2017, and one in the middle surprised a lot of people with its tenacious refusal to die. Even outside the spheres of online fanboy arguments, there were some clear winners and losers when it came to videogame consoles in 2017. It was a truly fascinating year to be an observer of the console gaming space, let alone a participant in it.
.
-◊-◊-◊-◊-
VR BEST OF 2017 DISCLAIMER
This list represents my opinion only. I am not asserting any kind of superiority or self-importance by presenting it as I have. My opinion is not fact. If you actually agree with me 100%, that's strange. Intriguing, but strange. Respectful disagreement is most welcome.
-◊-◊-◊-◊-
.
5. PlayStation Vita

(LAST YEAR: 4th)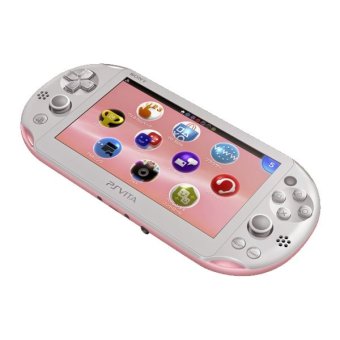 Some might question why I even see fit to include the PS Vita on this list anymore. After all, by this point Sony's most recent portable has been declared either dead or dying for most of its actual life. Such a narrative continues to echo (faintly, it must be said) throughout a general gaming community that has long since written it off. In a year that saw the debut of the Nintendo Switch, a handheld so rich in quality indie and Japanese games that some have taken to calling it the "Vita 2", plenty of Vita die-hards finally pulled the plug on Sony's little beast. All things considered, the Vita's 2017 records shows a much lower output of the fresh indie games, JRPGs and visual novels that were once its bread and butter. There were some exceptions of course – Stellar portable versions of Undertale, Danganronpa V3 and Ys VIII gave the Vita some semblance of relevance over the Switch at times throughout the year, if only for a small community of gamers – but with such a dripfeed of indie support and the (tragically) dwindling mainstream relevance of PSN trophy-hunting, the truly wondrous Playstation Vita may finally be on its last legs. Like, actually. For real this time.
.
4. Xbox One

(LAST YEAR: 2nd)
It's rather sad to look over the year just past with an Xbox controller in my hands, because in many ways it looks like Microsoft abandoned its once-revered console brand in 2017. It didn't, of course – The extremely impressive Xbox One X is proof enough of that – but that shining behemoth arrived at the very end of a year that saw the Xbox One fall comfortably behind its Sony and Nintendo-owned competition in every way that mattered – game exclusives (PC-adjacent or otherwise), marketing presence and indeed sales. The entirety of the Xbox One's major console-exclusive 2017 lineup can almost be counted on one hand, and though Halo Wars 2, Tacoma and Super Lucky's Tale are solid enough, only Forza Motorsport 7, Cuphead and Playerunknown's Battlegrounds can realistically be counted as potential head-turners. Again, the Xbox One X is turning out to be an incredible piece of hardware, turning plenty of older games into strikingly modern visual feasts and putting forward the best-looking version of newer third-party titles. It also looks like 2018 will be putting it to good use. Yet that cannot change the likelihood that 2017 won't exactly register as a highlight year for the Xbox brand overall.
.
3. Nintendo 3DS

(LAST YEAR: 3rd)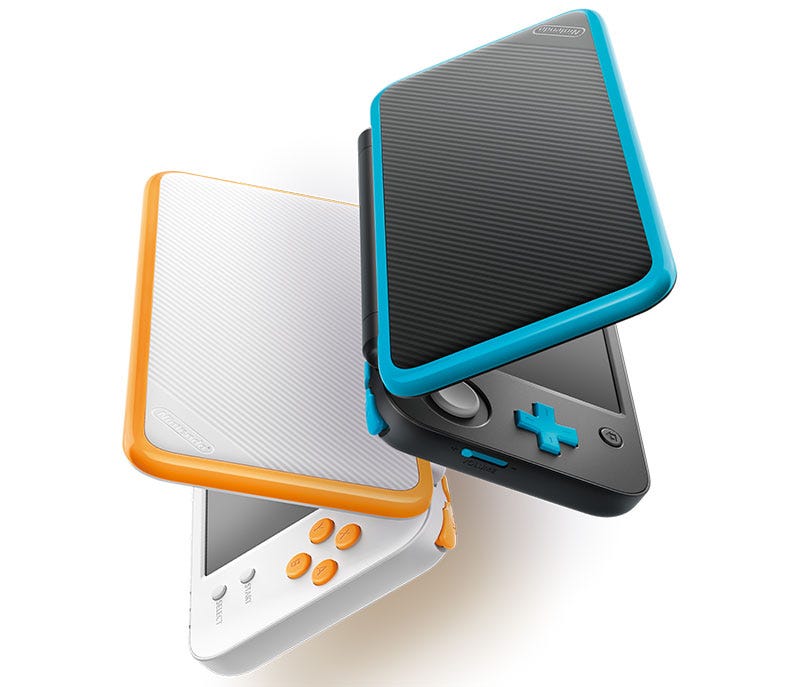 This is a weird one. Third place for the 3DS in 2017 may seem like a "default" position of sorts, given the underwhelming presence of the two consoles beneath it and the unassailable streaks of the two show-stoppers above. And yet despite appearing dead to rights amidst the whisper-quiet first third of 2017, this last bastion of Nintendo's dual screen gaming legacy somehow jolted to life around May, firing off a salvo of hardware special editions and redesigns (including the surprisingly feature-packed and sleek New 2DS XL) on top of enough significant game releases to give Switch owners headaches over backpack space. Regardless of its younger brother's success, in the past year the 3DS became the home for Fire Emblem Echoes: Shadows of Valentia, Metroid: Samus Returns, Mario & Luigi: Superstar Saga + Bowser's Minions, Kirby Battle Royale and of course Pokémon Ultra Sun / Ultra Moon. Few self-respecting Nintendo fans could resist all five, let alone the surprising Ever Oasis and Monster Hunter Stories, fresh Professor Layton successor Katrielle and the Millionaire's Conspiracy, polished distractions Miitopia and Hey! Pikmin, meaty JRPGs Dragon Quest VIII, Culdcept Revolt and Etrian Odyssey V, as well as the highly anticipated re-releases of Apollo Justice: Ace Attorney and Pokémon Gold / Silver – All 2017 3DS exclusives. The longer you look at it the more ridiculous it seems, but the Nintendo 3DS ended up having a stellar year in the Switch's considerable shadow and it is looking nowhere near as dead as history told us we should expect it to be.
.
2. PlayStation 4

(LAST YEAR: 1st)
After an exhausting year of hardware refreshes last time around, the Playstation 4 was content to stay put on all fronts but software in 2017, but that was all it needed to do in order to put on a spectacular showing, because my oh my, what a fantastic lineup of software! The Japanese gaming juggernaut, which has now all but assured its "win" this console generation, brought along so many highly regarded console exclusives this year that it's almost dizzying to type them out, but here we go. Yakuza Zero. Gravity Rush 2. Tales of Berseria. Nioh. Kingdom Hearts 2.8 Final Chapter Prologue. Horizon Zero Dawn. Nier Automata. Persona 5. Crash Bandicoot N-Sane Trilogy. Final Fantasy XII: The Zodiac Age. Pyre. Hellblade: Senua's Sacrifice. Yakuza Kiwami. Uncharted: The Lost Legacy. Everybody's Golf. Knack 2. Danganronpa V3. Gran Turismo Sport. Hidden Agenda. 2017 was without a doubt the most impressive year for exclusives that the PS4 has yet been able to muster, which is making the choice for a potential new console owner this generation a fairly easy one. Or, you know, it would have, if not for…
.
1. Nintendo Switch

(LAST YEAR: —)
In this year of 2017, there isn't really any other choice for the number one slot. The Nintendo Switch didn't just hit the ground running in March 2017 with a strong identity, clever marketing and the sales to back it up, it may have just set an unreachable bar in terms of quality first-year console game releases. Ten months and 327 games after launch, the unique portable/home console hybrid has had the good fortune of being bolstered by a mountain of quality first party reinforcement that may or may not have been gestatating for years as Wii U support, allowing for a salvo that roughly equated to one big, meaty game per month (shockingly without a single release date delay), as well as a rapidly-expanding treasure trove of genuine indie game royalty and, particularly later in the year, a decent sprinkling of bigger-budget third party fare. Like many of the Nintendo consoles of old, the Switch is already on pace to become the secondary machine of choice for primarily PC gamers on the isolated strength of its game library alone (Breath of the Wild, Kingdom Battle, Mario Odyssey, Splatoon 2, Snipperclips, Xenoblade 2, Pokken, ARMS, Mario Kart, FE Warriors? Come on) but the ability to play in fully portable mode makes even non-exclusive games all the more tantalising on Switch. Though it still has plenty of room to improve next year with regards to OS and online support, the Nintendo Switch will have a very tough time in 2018 living up to perhaps the best debut year in console gaming history.
.


-◊-◊-◊-◊-
Honorable Mentions


.
—SNES Classic Edition / SNES Mini
Yeah, I know this console hardly qualifies for the list by any kind of normal rules, but the tiny retro-styled box packed with officially-licensed Nintendo goodness blew me away when it released this year, and I just have to give it a shout out.
—Wii U
R.I.P old friend – You were taken from us all too soon. You will be remembered. Maybe.